**If you haven't already, click

here

to enter my giveaway for a $10 gift card to Target!



**If you're new to the CVS game this post won't make much sense to you. Go here first to read my Beginner's Guide to CVS and learn everything you need to know. Then read the rest of this post to see how I got all of this stuff for free at CVS this week, and how you can too!
This was a pretty good week for me at CVS. My first trip, Sunday, I had a great cashier. When I went in, I did 4 small orders, and she was so friendly and encouraging, I told her I thought I would go put my purchases in the trunk and reorganize a few things and come back in and do a few more transactions to use up all of my coupons. Which I did, and I came back in and did three more small transactions. So the picture below shows 7 transactions, done on my 2 cards, and I spent about $2.50 oop. You can see my scenarios
here
. (I actually bought 2 of the waters, but one stayed in the trunk for Hubs to take to work, so it didn't make it into the photograph).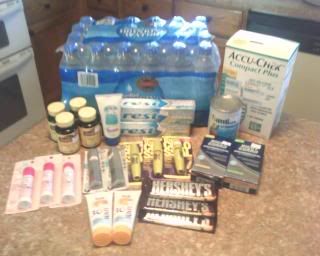 On Wednesday, after learning that the
Cleansing Towellettes were giving back more ECBs than the ad said
, I decided to run in and buy a few of those, before CVS fixed the problem. It seems that I was just in time, too, because the next morning the "bug" was fixed, and they were no longer a money-maker. I was completely out of printer paper, so that money making deal allowed me to get 4 packs of paper (on sale 2/$8) for free!
I bought everything in the following picture (4 packs of paper, 4 rolls of toilet paper, 6 CVS cleansing towelettes, 4 CVS pantiliners, 3 CVS tampons, 6 Revlon Beauty tools, 3 Gatorade G2s, and 2 bags of Doritos) in 4 transactions using my 2 cards, and paid less than $1 oop. I burned a couple of ECBs on the Revlon tools, because they weren't part of the Revlon monthly ECB deal as I had thought (my error reading the ad). But after the expired $5/$15 I used on each transaction (my store takes expired CVS coupons) and the profit from the cleansing towelettes, I almost broke even.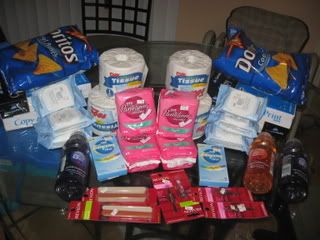 This week, I made a run to Meijer to take advantage of some of the good coupon deals I had. You can read my posts on what I bought
here
and
here
.
Everything below cost me less than $6! How exciting that was! And I got a catalina for $4 off of my next order. I'm not usually one for stockpiling groceries, simply because I don't have much space to store it all. I gave 2 of the salsas to my sister, and wasn't even sure we'd use the other 4 bottles before they expired, until my sister suggested I put them in the crockpot with some chicken and maybe some cheese or sourcream, and that could be dinner one night. Great idea! I doubt the salsas will last a month now, I have lots of ideas for working them into dinners.
And the 5 bottles of Lawry's marinades will hopefully be used up by the end of summer, we do a lot of grilling around here.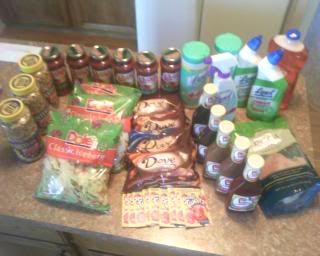 So all in all, a pretty great shopping week! Now I'm off to the park with my girls to enjoy the holiday weekend. Hope you all had a great 4th of July!
Here are a couple of pics of my 2 year old (with her cousin in the first pic and with Daddy in the second) enjoying our fireworks yesterday!